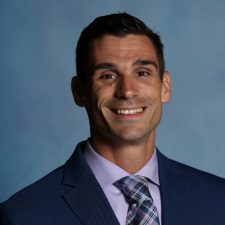 Greetings Ridge View High School Community,
It is an honor and privilege to serve as the Principal of Ridge View High School. I find it incredibly rewarding to lead a school with such persevering students, an extremely dedicated staff, and a supportive school community. I truly feel fortunate to be part of this school and to have the opportunity to help foster the social, emotional, and academic development of our students. Being in a position to support others on a daily basis is incredibly fulfilling, and I consider it my life's work. I believe that it is our collective responsibility to uplift, motivate, and inspire students by providing engaging, authentic, and meaningful learning experiences at Ridge View High School.
I started my formal education by earning an Associates of Arts Degree from Iowa Western Community College. I completed my undergraduate coursework at Northwest Missouri State University, receiving a Bachelor of Science Degree in Social Science Education. I continued my education at Northwest Missouri State University by earning a Masters Degree in Educational Leadership. I enjoy being a student and consider myself a life-long learner.
In my free time, I love spending time with my wife, Marie and our two sons, Liam and Callum. We enjoy going for walks, playing outside, and spending time with our extended family. My wife is the art teacher at OABCIG-IG Elementary School. As parents and educators, we feel blessed to raise our children in NW Iowa, an area with strong public schools and great community support. I look forward to continuing to serve the great communities of Ridge View High School.